Topliner 967 wallet-10 Pcs Fineliner
Product description
Fineliner with metal-encased writing tip for fine and exact results, approx. 0.4 mm. Wallet with 10 pieces: black, red, blue, green, yellow, orange, brown, violet, pink, light blue. Wide variety of uses for school, hobbies and work – even enables you to work with a ruler and template. The cap-off ink does not run dry even if the cap is removed for 2-3 days. The barrel parts are made from anti-evaporation PP for long-term shelf-life.
Item No.:196790 | Barcode: 4004675040718
Packing: Inner Box/ 10 Wallets. Carton: 17 Inner Boxes.
---
Related Products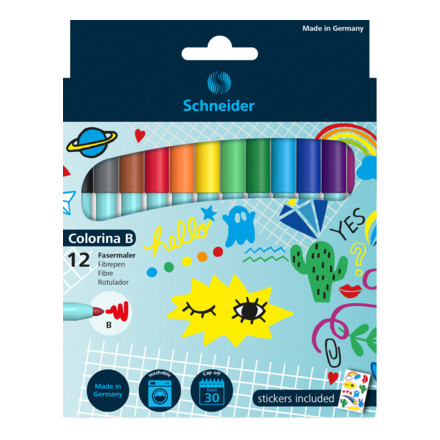 Product description
Fibrepen for creative painting. Line width large (B). Ideally suited for young artists for painting in school or at home. The cardboard wallet contains 12 fibre pens in brilliant colours: pink, violet, blue, light blue, green, light green, yellow, orange, red, brown, grey, black. Additionally included are 10 funny stickers for the creative designing exercise-and colouring books. The water-based inks easily wash out of most textiles and they are cap off . They do not run dry even if the cap is removed for 30 days. The ventilated cap (corresponds to ISO 11540 and BS 7272-1/2) provides adequate air passage in the event of accidental swallowing. In addition, the cap fits on the end of the barrel and therefore always ready to hand. The Colorina felt-tip pens are manufactured in the proven Schneider quality in Germany in accordance with the European standard for children's toys.
Item No.:193092 | Barcode: 4004675132864
Packing: Box/ 10 Wallets.