Maxx 133 Permanent marker
Product description
Permanent marker with chisel tip, line width 1+4 mm. Writing colour red. *Housing consists of 95% recycled plastic. For writing on cardboard, paper, plastic, glass, metal, wood and almost all other materials. The writing is quick-drying, water-proof and highly light resistant. The cap-off ink does not run dry even if the cap is removed for 2-3 days. It has a low odour and is free of toluol and xylol. The marker has a practical clip cap and can be refilled using Maxx 640 refill station.
Item# SN113301-Black Box/ 10 Pcs (Barcode# 4004675006509)
Item# SN113302-Red Box/ 10 Pcs (Barcode# 4004675006530)
Item# SN113303-Blue Box/ 10 Pcs (Barcode# 4004675006561)
Item# SN113304-Green Box/ 10 Pcs (Barcode# 4004675006592)
Packing: Inner Box/ 10 Pcs. Carton: 40 Boxes.
---
Related Products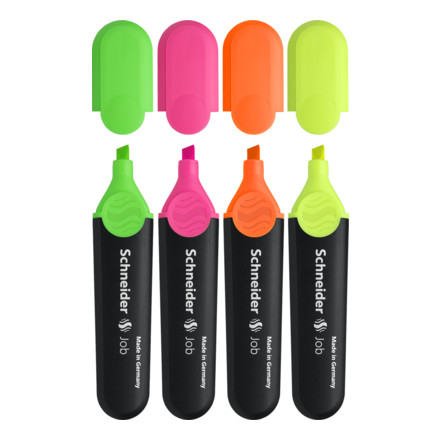 Product description
Highlighter with chisel tip for two line widths, 1 + 5 mm. Wallet with 4 pieces: yellow, orange, pink, green. The universal ink presents maximum brilliance and good lightfastness on normal, copying, and fax paper. The anti-evaporation polypropylene barrel is guaranteed to keep the highlighter fresh for 2 years and can be refilled with the Maxx 660 refill station. The smart highlighter features brilliant performance and was awarded the renowned iF and red dot design awards in 2013. The slimmer shape with rounded edges is perfect for sticking in one's pocket or pencil case. The cap has a clip and fits neatly on the end of the barrel. With its large ink reservoir, the Job pen can highlight over 15,000 words.
Item No.: SN1500 | Barcode: 4004675071521
Packing: Box/ 10 Wallets.